http://www.kickstarter.com/projects/212378023/grimm-fairy-tales-animated-series
UPDATES!!!
In celebration of Comic Book Day, we decided to turn our attention directly to the fans. The fans have been asking for an opportunity to "add what they want" to their pledge rewards, so here you go!!!
$109 – (New Reward) Premium Rewards plus any additional GFT TPB Signed. Add $10 to any package and have another GFT TPB Signed
$350 – (New Reward) Everything at the $300 Sela Action Figure level plus the Grimmies
$100 or more Current Pledges – Add $50 and get the Grimmies added to your package.
$250 or more Current Pledges – Add $75 and get the Sela action figure added to your package.
…
We've reached 20% and we're still going strong! We really appreciate all of the support we've received so far. You have all gotten us of to a great start. Now, we have some amazing art to reveal! The extremely talented cover artist GREG HORN (has done work for Marvel, DC, IMAGE and others) has just completed the cover for the Kickstarter-Exclusive, Limited to 100, Grimm Fairy Tales #75!!! Check it out!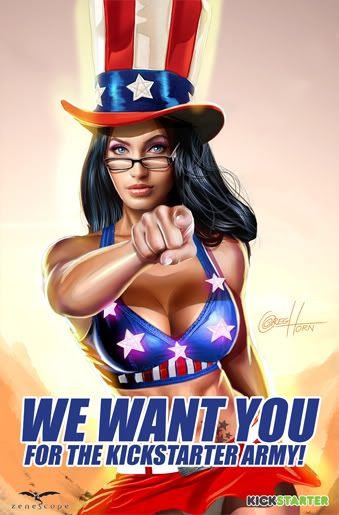 Now, how do you get your hands on this awesome cover? Well, it's available only through Kickstarter and will not be sold anywhere else.
It is available at these pledge levels:
Grimm Fairy Tales Exclusive #3 ($225) – Only 62 remaining (to get a copy of this w/ the animated series)
Exclusive Bundle Pack ($325) – Only 20 remaining (Get 1 of each exclusive)
Gimme More Pack ($1000) – Only 15 remaining (great for retailers!)
Check the pledge levels to see what else is included in these bundles, because this is just one of the awesome rewards! Remember, that if this Kickstarter does not get funded, this cover won't be available at all! (Oh No!). So, make sure to spread the word and let's get this project funded!
 ———-
For those of you that may have missed some of the recent updates, we have added a few very limited quantity rewards at the $350 and $1000 pledge levels. They are live on the page now.
We also wanted to feature one of the Kickstarter-exclusive rewards and so we decided to unveil the design for the Sela action figure!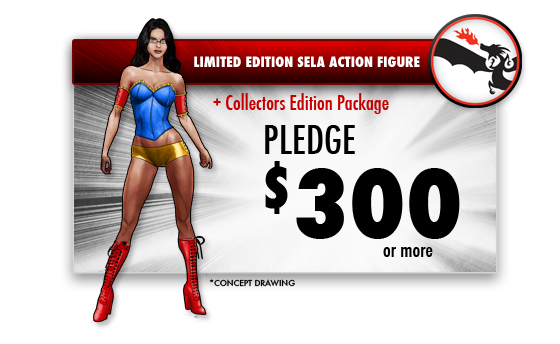 Isn't it beautiful? Our friend Clay Moore (of C.S Moore Studios) will be sculpting this action figure. He has recently completed sculpting our first line of action figures and they came out great! Here's a side by side comparison of the concept art as well as an example of one of his finished projects.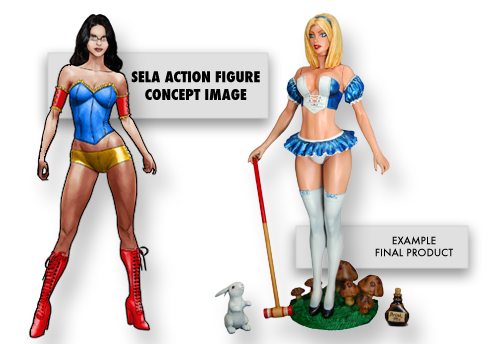 This limited edition action figure is only available through this Kickstarter campaign and can be yours at the $300 pledge level. You will also get the Collector's Edition Package at this pledge level. We're offering some of the coolest collectibles we've ever produced in this campaign because we really want to make this series a reality.
Please, continue to spread the word about this exciting project and get as many people as you can to contribute. There are a wide range of rewards for pledges, and all the support is going towards an amazing product.
The Gimme More Bundle!!!
Pledge $1,000 or More — Limited to 20
10 copies of GFT #75 LE Kickstarter Book
1 copy of GFT 75 LE 100
5 Copies of GFT M&L #18 LE 250 Kickstarter Book
3 Copies of GFT Vol. 1 TPB Kickstarter Edition
2 LE Prints
5 Blu Ray/DVD/Digital Combo Packs
1 Copy of Metal Box Edition Blu Ray/DVD Combo Pack
4 LE Sela Mathers/Snow White Action Figures
5 LE Key Chains
10 Blank Sketch Copies of GFT #75
5 LE Sela & Red Riding Hood Grimmies 2-Packs
4 GFT Shot Glass Sets 5 Secret Exclusives1 Mixed Box of GFT Single issues (Qty 200)It will be limited to only 20 due to all the LE content included, so act fast!
Again, we really appreciate the support that we have been receiving. Keep checking back for more news about the project, cool rewards, and don't forget to spread the word!
We are very happy to see this project being supported so well right out of the gate!  10% in three days is quite a feat! Thank you very much. Keep spreading the word about this exciting project. We have some amazing fans and we really believe you can help us make this project a reality.
So, we have a very exciting bit of news to announce today. For this project,ComiXology will be the official supplier of all of the digital copies of our comic books!!! So, every reward that mentions a digital copy of a comic or volume of comics, you will be getting that copy via ComiXology. Check out our store front on the ComiXology website: https://comics.comixology.com/affiliates/zenescope/ . If you have never used ComiXology or read a Zenescope comic before, head over to their site and check out some of the free Zenescope comics that are available now. Or, simply download the Zenescope App (powered by ComiXology).
We are aiming to give quality content to everyone that is pledging to this Kickstarter campaign, and partnering with ComiXology will help us do just that. The partnership with ComiXology will also be bringing a new pledge reward: The Digital Demi-God Collection! This will include a digital copy of every comic we have released and all the comics we publish digitally until the end of this year (roughly 200 comics!!!). This will be offered at a pledge level of $350 and will be limited to only 10 pledges. We'll be including the Collector's Edition Package in this reward.
ZENESCOPE ENTERTAINMENT ANNOUNCES KICKSTARTER CAMPAIGN FOR GRIMM FAIRY TALES ANIMATED SERIES
Zenescope Entertainment is proud to announce the launch of the Grimm Fairy Tales Animated Series Kickstarter campaign. The animated series will be directed by Jon Schnepp as well as the Titmouse Inc. animation studio. The Kickstarter will launch on Friday, March 16, 2012 and will run until May 1st, 2012.
The project requires a budget of $175,000 to cover the cost of the pilot episode and to produce the foundation materials necessary to continue the series. Any additional funds will go towards adding additional episodes to the series.
Zenescope Entertainment President Joe Brusha had this to say:
"We believe that our Grimm Fairy Tales comic book series would make an excellent animated series, and we've been pitching the idea to the Hollywood big-wigs for years. They've said "There is too much Fairy Tales stuff out there", or "No one wants to see a gritty, dark, modern take on the fairy tales." That's where they're wrong. We have tons of devoted fans that would love to see more of our series, and that is our chance and yours to make it happen."
Grimm Fairy Tales has been the flagship series of Zenescope Entertainment since the company started. Zenescope has grown to a top comic book publisher due to its continued success. Grimm Fairy Tales is currently the longest running independent color comic being published today and has over 1 million copies in print.
Jon Schnepp will be directing this project. He is one of the hottest animation directors inHollywood, having already seen a great deal of success working on such series as Aqua Teen Hunger Force , Metalocalypse, and the Venture Brothers. Not only will Jon be working closely with the creators of the comic book, Joe Brusha and Ralph Tedesco; Zenescope will be enlisting Titmouse Inc, one of the premiere animation studios, to help with this vision.
Titmouse Inc is a premiere animation studio with top-tier talent and experience. Jon Schnepp has worked with them before on many of his projects, and much of their work rounds out the Adult Swim animation block on Cartoon Network. Their variety of experience is suited well for the Grimm Fairy Tales animation series anthology.
Now head over to the Kickstarter page and give as much as you can. The more you give, the more you get!!!
About Kickstarter
Kickstarter aims to let creative people of all kinds — journalists, artists, musicians, game developers, entrepreneurs, bloggers — raise money for their projects by connecting directly with fans, who receive exclusive access and rewards in exchange for their patronage. More than just a fundraising app, Kickstarter's a publishing platform where project creators can communicate with the people that are supporting them.