Hey fans!
We wanted to give you a look into the 2012 Wonderland Annual. We chat with one of the interior artists.
A Convo with Dawn McTeigue – (credited as Dawn Schwartz in the 2012 Wonderland Annual)
Q&A
What was the first book you worked on?
JP Roth's Ancient Dreams Teaser. Drawn in early 2011. I'm new to the industry.
How critical are you of your own work?
VERY! Probably a bit too critical, but it keeps me hungry for improvement & eager to hear people's critiques of my work so that I can get faster & better.
It was good having you at the SDCC booth. What do you like/dislike about conventions?
I like so much about conventions, but one of the stand-out things is that I get to meet more people in the comic industry. I have so much comic art that I love, and so many artists that I admire, it's really awesome to be able to talk with them & learn what I can. Also being able to meet the fans of the comic books that I've worked on & hear what they have to say about the comic & art is a special treat all its own. As far as what I dislike about conventions: having really sore feet! :-)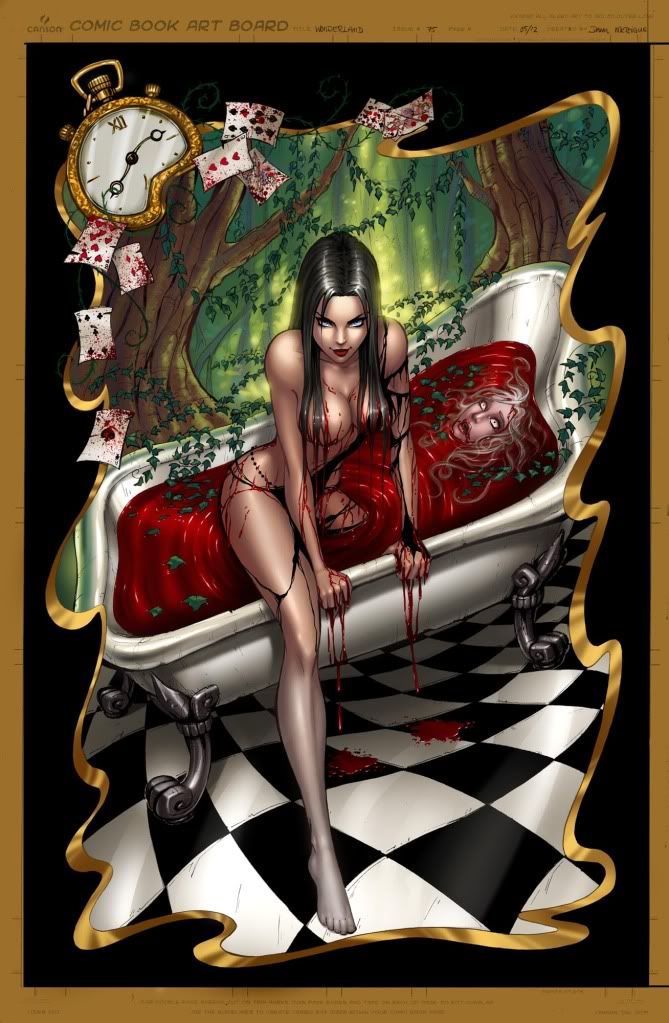 How did you go about tackling the Wonderland art style?
I took a long time studying & reading all the previous Wonderland comics. I also really tried to get into Alice & Calie's headspace to understand everything that they're going through, what makes them tick & snap respectively & from that, create pages that were in keeping with not only previous artwork, but the girls themselves. I had a ton of fun working on the pages that I did in this issue. I hope the Wonderland fans enjoy them too.
Thank you so much for your time Dawn and your work on the Wonderland Annual. 
We're going to continue to chat with a number of our artists/writers that work on our comics and we'll bring you those interviews here on the blog.